Our History
Over 3 decades protecting businesses, employees and communities across the globe. A heritage over 500 years in the making. 
Chesley Brown traces its roots to 1500's when ancestors of Brent Brown, William Garrard and John Garrard, became among the first "High Sheriffs" of London. They were each later made the Lord Mayor of London (1555 and 1601). When Chesley Brown was founded in the early 1990's by CEO Brent Brown, it was with this legacy in mind. Throughout it's rich history, Chesley Brown has developed a reputation as a true leader in the security industry, even pioneering the modern approach to security management. Our commitment to our clients has allowed us to remain the industry leader in developing innovative security and management solutions for national and international organizations.
Providing security services to clients in over 29 states and 3 countries, Chesley Brown has the resources and experience to provide reliable and scalable protection for clients and their assets worldwide.
1555 - A Legacy 5oo Years In the Making
Ancestors of Brent C. Brown, Chesley Brown Companies founder, include William Garrard and John Garrard who were the "High Sheriffs" of London. They were each later made the Lord Mayor of London (1555 and 1601). Sheriffs have long been considered the first step towards modern day security. Mr. Brown is a student of history. Upon discovering the security background of the Garrard's he realized his passion for building a first class company that is "Serious About Security" comes from a past rich in tradition and high standards.
1990 - Chesley Brown Begins with Consulting and Auditing
Brent C. Brown grew up witnessing firsthand businesses of his Father, Grandfather and Uncle, who were all successful entrepreneurs. He always knew he would one day start his own company. In 1990, at the age of 26, he applied his experience in law enforcement and his passion for security in the creation of a consulting and auditing firm, Chesley Brown Associates, Inc.
1991 - The Chesley Brown Report is Born
Chesley Brown obtained its first consulting client in Atlanta, Georgia. Legendary developer Blaine Kelly's Landmarks Group hires Brown to conduct an audit on the Promenade II building. This project was the genesis of The Chesley Brown Report concept, which helped set the standard for the entire security industry.
1992 - Chesley Brown Executive Protection
Chesley Brown expands into executive security with clients such as The Georgia Pacific Corporation.
1993 - National Expansion and Growth
Chesley Brown signed a consulting deal with Charles Rice, Founder and CEO of Barton Protective Services. This resulted in the growth of the companies' base and expansion into other cities.
1994 - Chesley Brown Opens Office
Chesley Brown opened its office in the Atlanta suburb of Cobb County. Executive protection projects for the year also included GE and NBC during the Superbowl held in Atlanta. This would mark the beginning of a long period of sustained growth nationally and internationally.
1995 - Summer Olympics in Atlanta
Chesley Brown was asked to provide analysis for numerous broadcast news and print agencies with regards to the Oklahoma City bombing. During this time we worked with many of Atlanta's premier properties in preparation for 1996 Centennial Olympic Games to be held in Atlanta, Georgia. The Chesley Brown Advisory, a quarterly publication, began providing pertinent security information to our clients and those serious about security. This same year company founder, Brent C. Brown, was quoted in Wall Street Journal Article "Oklahoma City Bombing: The Aftermath: Buildings Can Be Safer But Never Totally Safe" dated April 25, 1995.
1996 - Chesley Brown and the Centennial Olympic Bombing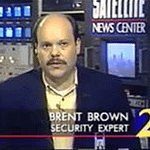 In preparation for the 1996 Centennial Olympic Games Olympic games in Atlanta, Chesley Brown's CEO, traveled to London, England to research the city's response to terrorist bombings being conducted by the IRA. Prior to the games, numerous foreign press agencies asked Chesley Brown about security preparations. Immediately following the Olympic Centennial Park bombing, we provided commentary at the request of international and national news affiliates. As a result of company's increased visibility internationally, we signed a long-term security auditing contract for a Dutch real estate investment firm, placing Chesley Brown in more than 14 states.
1997 - Chesley Brown Establishes Security Management Company
Chesley Brown International, Inc. was founded as a security management company. We became the first company to offer truly customized security programs, tailored to our clients' unique needs. During this time we signed several major contracts and began securing five malls in North Carolina, Ohio, Virginia, and Washington, DC. Chesley Brown International pioneered the Client Partner Program, which provides total security management based on the concept that security management is a critical component of property management. We were also among the first companies to start providing benefits to full-time officers.
1998 - Chesley Brown Goes to Brazil
Chesley Brown was asked to provide consulting services for 2 large malls in San Pablo, Brazil. Security management projects grew further with additional operations in Washington, DC , Richmond, VA, Durham and Charlotte, North Carolina, as well as Atlanta, GA.
1999 - Chesley Brown Develops Mixed Use Security Expertise
Chesley Brown International assumed security management of the nation's first and largest mixed-use development. It encompasses 18 city blocks in Kansas City, Missouri. Developed in the early 1920's this project had previously operated their own private public safety agency. When Chesley Brown took over operations we revamped to become the most prestigious program of its type in the world.
2000 - Chesley Brown ONSITE - Project Self Analysis
We developed the self-critical analysis with a built-in scoring system - another first in the industry resulting in The Chesley Brown ONSITE Project Audit. Established our first Corporate Command Center in our Atlanta HQ.
2001 - Security Awareness Heightens Across the USA
On September 11, 2001, Chesley Brown's command center structure proved invaluable, keeping us in the "know" while events rapidly unfolded. We were featured in Atlanta Business Chronicle's Around the Region's article "Security Company Gets Olympics Related Job in Utah." And finally, our Corporate Flag was unveiled. The tradition of Rex was re-established when Rex II, the "canine officer," arrived in Kansas City in May of 2001. We also began consulting with clients in Tokyo, Japan and secured the grand opening of The Gateway, Salt Lake City. During this busy year, Chesley Brown designated specially trained officers to be F.L.I.E.R.S. This elite corps provides the training and transitioning of officers at new properties and conduct ONSITE assessments of Chesley Brown properties throughout the year.
2002 - Chesley Brown and the Winter Olympics in Salt Lake City
We provided security during the 2002 Winter Olympic Games in Salt Lake City by securing The Gateway, a mixed-use project at the center of the Olympic Village. Security was also provided for NBC, the International Olympic Committee, and Sports Illustrated staff and representatives.
2003 - Georgia's 40 Under 40
STAR (Statistical Tracking and Reporting System), our customized computer program exclusive to Chesley Brown® clients replaced SISTER. Additionally, we launched S.A.M. (Security Advisory Messenger). This system was developed by Chesley Brown International to disseminate security related information quickly and efficiently or our clients and tenants. In this year, Brent C. Brown was recognized as one of the Best and Brightest in the 2003 Georgia Trend's 40 Under 40 Annual Edition.
2004 - Chesley Brown Corporate Offices Expand
C
orporate offices expanded. Chesley Brown has now consulted with more than 70% of the Atlanta skyline and completed projects in more than 28 states and 3 countries.
2005 - The Birth of the Chesley Brown Electronic Briefing
We began offering bi-weekly E-Briefs highlighting up-to-date security topics sent to clients and friends of Chesley Brown Companies. Chesley Brown's Founder's Flag was unveiled to celebrate our 15th year in business. Research began on the most innovative undertaking to date, InCommand Worldwide. Research included analysis of electronic remote monitoring in the UK.
2006 - InCommand Worldwide is Launched
InCommand Worldwide, LLC, providing interactive event driven monitoring was launched. Once again, Chesley Brown led the way with a new and innovative approach to security. Rex II retired from duty at the Country Club Plaza in Kansas City and his replacement, Chess, came on board.
2007 - Operations Headquarters Established in Kansas City, MO
Operations Headquarters were established in Kansas City, MO with the promotion of Kim Meador as Sr. Vice President of Operations. Chesley Brown began fine tuning "Blending Boots and Technology".
2008 - Chesley Brown Expands Armed Security Operations
Chesley Brown, in response to clients' requests, began providing armed officers and vehicles for crime deterrents in entertainment districts. This new development also required additional tactical equipment to outfit officers. This initiative has allowed us to maintain a culture of forward thinking, keeping the public safe, and Chesley Brown ahead of the curve.
2010 - Chesley Brown Celebrates 20 years
Chesley Brown celebrated our 20th Anniversary. Chesley Brown developed a program utilizing both officers and technology to provide security for a financial management company with multiple locations.
2011 - Chesley Brown Initiates Remote Command Platform
Chesley Brown was selected to partner with property management during the construction phase of a major mixed-use development. This allowed us to identify potential problem areas very early, and implement custom solutions to reduce risk for tenants, customers, and visitors before problems developed. This has resulted in a lower tenant turnover rate, and higher returns on investment. Remote Command Vehicle developed and implemented.
2012 - Corporate Command Center Expands
Chesley Brown developed our own tactical patrol bike. Corporate Command Center expanded.
2013 - Chesley Brown Unveils Private Label Tactical Equipment
The Robert Lemley Garrard Training and Education Center aka "The TEC" was formally dedicated at our Atlanta HQ. Substantial growth was experienced nationwide. Garrard Tactical, LLC a Chesley Brown subsidiary company unveiled the Prowler Tactical Patrol Bike, The Fortress, a remote CCTV platform and The Defender, our custom tactical UTV.
2014 - Atlanta Opens Office for Recruiting, Staff Development & Training
Atlanta added an Atlanta Regional Office for Operations.  This provided enhanced recruiting and staff development activities separate from our Atlanta corporate HQ.